The DeeVines - a professional, energetic and experienced wedding and corporate function band available to hire.
They have considerable experience as musicians and performers and are ideal for weddings/civil partnerships, corporate events, birthdays plus all other types of events around Manchester, Cheshire, the North West and the UK.
The DeeVines play an accessible and lively soul based set with a playlist which spans from the early 60's Motown sounds, the 70's funk and disco, right up to the contemporary RnB hits of the modern era. Artists such as:-
Marvin Gaye • Stevie Wonder • Tina Turner • Michael Jackson• Earth, Wind and Fire • Jocelyn Brown • Beyoncé
Mary J Blige • Clean Bandit • Florence And The Machine • Bruno Mars • Daft Punk and many more.
Click here for a typical set list example.
The DeeVines pride themselves on a high quality and friendly performance with the help of the very best equipment available including high quality PA system, stage and dance floor lights. They also provide pre-mixed music to be played before, between and after their live sets free of charge. A professional, friendly approach to each individual event helps them to ensure every possible requirement from the client is met well before the event takes place. This put the clients' mind at ease so they can enjoy their event, and it also maximizse the band's live performance and optimise the overall experience, creating a seamless, memorable 1st class entertainment.
'Please have a browse around our site to see what we can do for you and your event.
If you have any questions at all, get in touch via our contact page
and we'll get back you very soon. We look forward to hearing from you very soon…'
Here's what our former clients have to say.....
Debs - Vocals
Sarah - Vocals
John - Guitar
Lee - Keys
Eddie - Bass
Dean - Drums
Below is a comprehensive list of questions we are regularly asked. It is

strongly advised

you take a few minutes to look through, as your questions more than likely will be answered here.
If your query isn't here, please contact us and we'll get back to you with an answer as soon as possible.
We have never booked a band before so we're not sure how it works and could do with some help
---
Don't panic - thats what we're here for!
Between all band members, we have many years of experience to help guide and advise you on your event to ensure it's exactly what you want.
---
How long is your performance?
---
Our performances our very flexible and bespoke to each of our clients. The fee quoted is based on the band playing up to 2 hours of music. The split is at the complete discretion of each client, but we find that either a 2 x 1 hours set or 3 x 40 minute sets (with breaks in between) works very well. Please note that the fee quoted is based on the band arriving up to 2hrs before the performance and a midnight finish. Our free DJ service is available until around 12.30am.
---
How far will the band travel?
---
We will travel throughout the UK and further afield if required. For extensive distances or overseas performances, travelling expenses and accommodation would be applicable in addition to a performance fee. Please contact us for more information if this is applicable.
---
We have a first dance request. Will the band be able to play it live?
---
If your choice of first dance is suitable for us to perform, then of course we will perform it. What we mean by 'suitable' is that any song choice you have in mind needs to be in line with the genre of music we play i.e Soul, Motown, R&B, Pop, etc. However in order for us to achieve this we must have a minimum of 4 weeks to learn the song. If your request cannot be performed by the band live, then we are happy to play it through our PA system. The band will always have the final decision of whether the song requested is feasible for us to do.
---
Is it possible for us to choose songs from your repertoire for our event?
---
We encourage all our clients to be involved with song choice, but we may include or exclude (where appropriate) any song choice we feel may or may not be appropriate for an event.
For certain events (in particular weddings) this is quite normal and not a problem. Have a look at our repertoire and you will see that our choice of songs cover most era's of music from the 70's - 10's. It can easily be mixed and matched to cater for all age groups thus keeping everyone happy. We can help you choose what will be appropriate from our experience with many varied events or better still, let us do this for you. This is our area of expertise and of course it's one less thing you have to worry about!
---
Our event is outside. What are the requirements for this?
---
Open air or marquees events are fantastic and we have plenty of experience performing at these type of events. All we would need is a suitable area such as a covered stage (or marquee/gazebo) regardless of the time of year. This is because potential rainfall or sudden weather changes needs to be taken into account as we are using a lot of electrical equipment. We will require access to at least two standard power points. Please don't forget to take into account consideration of your neighbours - or make sure you invite them to the party!
---
I have a special song that is not in your repertoire. Would it be possible for the band to perform it?
---
Absolutely. We offer this service for one special song, any other extra songs do carry an additional charge. The song must be in line with the genres of music we play. Please give us at least 4 weeks notice to learn your song. If we are unable to perform it, we will let you know ASAP.
---
Do you have all the applicable insurances?
---
Yes. We have full £10,000,000 Public Liability Insurance, and all equipment is annually P.A.T tested. If you require a copy of the certificates, please get in contact and we can provide you with PDF's of the documents.
---
How long do you need to set up?
---
Ideally we like to allow approx 90 minutes for the 'get in', PA set up and sound check. It is really important that you account for this in your schedule. We appreciate that sometimes events do not run to plan so our timings may not be feasible. If this is the case we will endeavour to set up as soon as we possibly can. Once set up, we will run through a few numbers to make any adjustments to the sound. The above time scales do not include the band getting changed into performance outfits. We will require an additional 20 minutes for this.
---
Can you arrive in the morning to set up for an evening event?
---
If we are available, yes of course.

Early set-up is becoming a more popular option but can only be facilitated if there is enough space at the venue.

If your event is a wedding and your wedding breakfast is going to be in the same room as the evening reception, please bear in mind we will still require a minimum of 90 mins to get in the room, set-up and sound-check. We have performed at lot of weddings and in many instances they do tend to run behind scheduled times because of speeches running on etc. Not having enough time to get ready/sound check would impact the overall sound of the band. To try to avoid this situation, we now provide the option of setting up earlier in the day so that we are more or less ready to go if your wedding does run behind time. Once we return later on in the day and the room is turned around for the evening reception, this is when we would sound check. You will need confirm with the venue first that an early set is possible.

An early set-up fee would be applicable, please contact us for a quote.
---
Our event is a wedding. When is the best time for the band to perform in the evening?
---
For an evening performance, we highly recommend the band performance should start around 21.00.

A wedding can be a very long day for your guests. After the wedding reception there's the meal, then the speeches (which usually go on a lot longer than planned), and then roomed is turned around for the evening reception. At this point we have found that guests usually want to take a bit time out to have a few drinks and talk amongst themselves for a little while before they want to dance. By starting the performance a little later it enables them to do this. It also gives your evening guests plenty of time to arrive and do the same.

We have found that if we play too early (8pm), the guests are still chatting amongst themselves or they are not up for dancing yet, so to us it seems like a waste of a set and your money. Pre 9pm is the time to utilise the music provided by your DJ, or by ourselves if required. Eventually your guests will be starting to get in the mood and they now will be waiting in anticipation for the band to perform so they can dance the night away. That is exactly what we want - we want to ensure that you get full value for money, and naturally we want all your guests to be on the dance floor when we play - that's part of our job! This is just our recommendation of course. We appreciate that a 9pm start might not be an option for some of our clients. If you require us to start quite early then we're more than happy to accommodate.
---
We have a DJ booked. How will this work?
---
We want to ensure that the music is continuous all night so we will normally liaise with the DJ so that he plays in between our sets at times to suit you. We will also provide him with our playlist to ensure that none of the songs we are performing will be played.
---
We don't have a DJ. What happens in between your performances?
---
Simple - At no extra cost to you we provide a unmanned DJ service in between and after our sets (up until 12.30am). This fully inclusive option becoming more and more popular with clients who want to save the added expense of hiring a DJ.

Our playlist before and in between performances incorporates the very latest popular chart music. After our performance we will up the tempo with very latest in dance music. If you prefer to have your own playlists then thats absolutely fine. We would need a mp3 player from you with at least 2.5 hrs of music on to ensure you have enough music for the whole evening.
---
As well as the band in the evening we also require some background music during the day. Is this possible?
---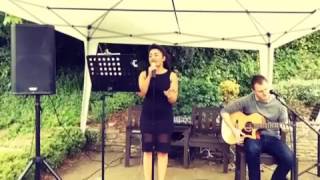 Yes. We can provide a soloist or duo with guitar or piano during the day of your event, followed by the full band in the evening.
This service does incur an additional cost but we are happy to discuss any of the options with you.
---
What equipment do you need to bring with you?
---
As a working band, we are completely self-contained so we bring everything we need with us. This includes all the PA, instruments, stage lighting and dance floor lights. If the event is for 300+ guests then additional lighting effects and a sound engineer may be required which would incur additional costs. We would notify you if this was the case.
---
There is no stage at the venue. Will you still be able to perform?
---
Of course yes! We are happy to perform at floor level. FYI - A stage would need to be a minimum of 4 metres x 2.5 metres to safely accommodate the whole band.
---
How much floor space do you need to set up?
---
Ideally, the band needs approx. 4 metres across by 2.5 metres deep, although we can sometimes manage with a smaller space. We are happy to liaise with the venue when there are space limitations, but please be aware that the dimensions quoted above reflect the minimum comfortable working space. Please note:- If the venue is supplying you with a portable dance floor, you or the venue must ensure this is not encroaching in our playing area. This has happened to us before and causes problems and increased setup times. We are not responsible for moving dance floors.
---
What will you need us to provide?
---
Your venue will need to provide a safe and constant supply of electricity terminating in a minimum of 2 x 13amp sockets on or near the stage area. We have a great deal of heavy equipment so sensible access to the venue will need to be provided. The venue will also need to provide an area where we can change and relax between sets, please see hospitality requirements below for more details.

We require somewhere where the full band can get changed for the performance, somewhere we can also relax before and in between sets and leave our belongings securely when we are performing so a private changing area will need to be organised for this. Please note that in the interests of health & safety and hygiene, toilets (inc portaloos), restrooms or store rooms cupboards etc are not acceptable areas for the band to get ready in. If we arrive on site and we haven't been provided a suitable place to get change, then unfortunately we will have to perform in the clothing we arrive in.
---
The venue has told us it has a sound limiter, is this a problem?
---
We are used to working with sound limiters and can adjust our PA to allow for this. Some sound limiters are set at an extremely low level and these can cause performance problems as they are designed to cut the power supply if the set limit is exceeded for more than a few seconds, with consequent disruption to the performance. It is our experience that in some cases venues can be less than honest with their clients regarding noise issues they have, especially in built up areas, and also the suitability of the venue for live music. We will liaise with the venue to minimise any problems wherever possible.
---
What will you and the band be wearing?
---
This all depends on the type of event. For an informal event (birthday, christening etc) the guys will normally wear smart casual wear whilst the girls wear modern outfits. However for a more formal engagement (corporate function, wedding), the guys wear tailor-made suits (as in the photos) whilst the girls will wear evening dresses or similar to compliment what the guys are wearing. If your event is not a formal event, yet you still require us to wear suits, this is not a problem. Please let us know either way and we can accommodate.
---
Do we need to provide you with food?
---
If we are performing in the day as well as the evening, or we have travelled a considerable distance to your event then hot food is an essential requirement - please see the hospitality requirements below. If we are playing locally, we do make a polite request for refreshments to be made available to the band at your discretion. We are happy to discuss and agree this with you.
---
What do I do if I wish to discuss my event?
---
Please fill in the fields on the contact page - once we've receive your email we can either reply back or give you a call if you prefer at the earliest convenience.
---
Will you perform for free at my charity event?
---
We perform a small number of events every year for our own chosen charities. Unfortunately we cannot undertake any other free events.
---
OK so, I'm happy with everything and I wish to book the band.
How do we move forward from here?
---
We will send out an invoice via email for the full amount. A £100 deposit will need to be paid as soon as possible to secure the date in our diary. We will hold the date for 7 days. If we do not receive the deposit in that time we will remove the date from our diary. Once we have received the deposit we will confirm we have it by email or by phone.

If requested we can send out a contract to you which is to be signed by both parties. Don't worry it's nothing too major, it's simply put into place to protect both parties - it clearly shows what is required from us and you as the client. Once the contracts are signed there is very little else to do until nearer the event. At this point one of the band members will be in touch to discuss all your requirements and liaise with you and the venue.

If for any reason the booking is cancelled by you, then unfortunately the deposit is not refundable as we may have turned down other work to cater for your event. If for any reason a member of the band cannot make the event then we have deputised musicians and singers which can replace them at short notice. If for any reason we have a situation where the whole band cannot make the event (hardly unlikely) then we will notify you ASAP and fully refund you. We work with some of the best entertainment agencies in the country who would have no problem finding a replacement band.

From experience we have found that it is much better for all parties involved to settle any fees well before the event is taking place. We will require the rest of the fee to be paid in full at least 1 week before the performance. Payment can be made by bank transfer.
---
How far in advance should we book?
---
We work on a first come first served basis and we regularly have bookings finalised 18 months before an event. It is advisable to book as far in advance as possible.
---
Do we have a main contact person to deal with?
---
You will have an allocated member of the band who will deal with you from enquiry stage right up to your event. They will be available for any queries you may have.
---
Can I call or email to discuss any changes, thoughts or concerns for my event after making the booking?
---
Absolutely. You can contact us as many times as you need.
---
---